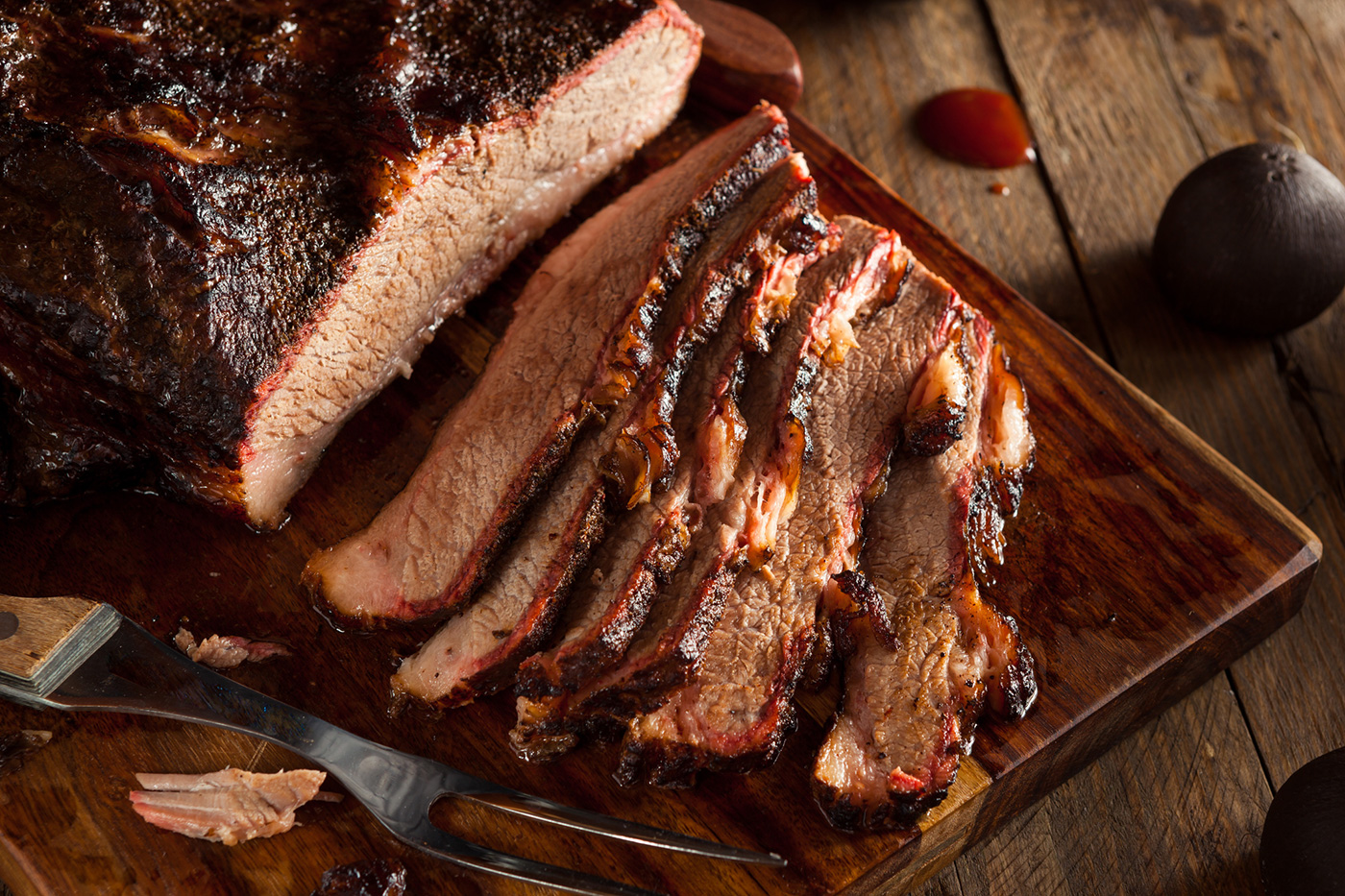 Low and slow is how you tenderize any brisket. Our favorite is a braised brisket, depending on the weight, it will cook at a low temperature for up to seven hours. A good rule of thumb is 1 hour/pound, holding it at an internal temp of 180° and until a fork slides easily in and out of the meat. To achieve the best braised brisket, you'll want to sear the meat before adding it to your broth and mirepoix, where it will soak up all those flavors. Believe us, a well-cooked brisket is always worth the wait. If you'e looking for delicious, tastes-like-home flavor, try our Bubbe's brisket recipe!
Ingredients
1 brisket, untrimmed (5-6 lbs)

3 tablespoons vegetable oil

3 medium onions diced or sliced

2 cups beef or chicken broth

14 ounce can of tomatoes

4 carrots peeled & cut into 2" pieces

4 celery stalks peeled & sliced into 2" pieces

10 sprigs fresh thyme

4 sprigs rosemary

2 bay leaves

6 cloves garlic crushed

2 teaspoons Kosher salt

2 teaspoons black pepper

Fresh parsley to top
Directions
Preheat oven to 350°F.

Pat brisket dry. Rub both sides with Kosher salt and black pepper.

In a pan or Dutch oven, bring to medium-high heat. Add 2 tbsp of oil and sear the brisket. Make sure to sear evenly on all sides.

Once seared, remove the brisket and add remaining oil, onions, celery, and carrot. Sauté until onions are translucent then remove.

Add broth and canned tomatoes. Use a spatula to scrape the bottom of the pan.

If using a Dutch oven, pour broth mixture into a container. If transferring to a baking pan or dish, layer in half the sautéed vegetables along the bottom.

Add brisket, fat side facing up. Place garlic cloves directly upon the brisket. Add remaining vegetables, covering the brisket. Place herbs directly atop, evenly spaced.

Slowly pour the broth into the dish.

Let roast for 4 – 6 hours. Ready when fork-tender and easily shreds.

Uncover and allow the brisket to cool to room temperature. Place in refrigerator overnight.

Day of Preparation:

Roughly 3 hours before serving, remove the brisket from refrigerator.

Preheat oven to 350°F.

Using a spoon, remove any solidified fat that has risen to the surface. Remove the brisket from the dish and slice against the grain.

Place back into dish, spooning sauce over the brisket.

Cook for 35-50 minutes, or until warmed through.

Once done, remove bay leaves. Optional: Transfer cooked vegetables to a separate serving platter. Serve and enjoy!