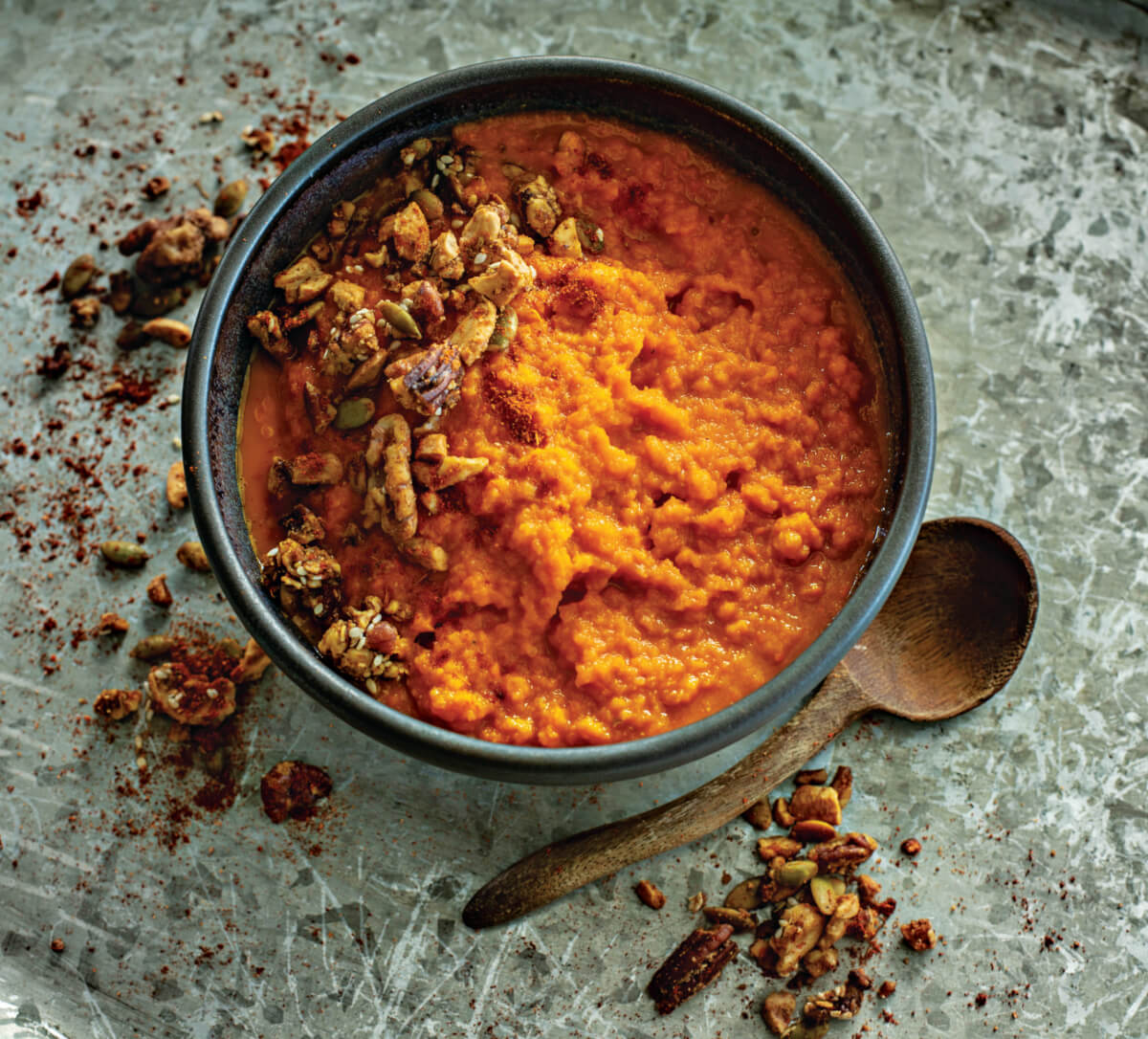 Here in SoCal, there's a definite chill in the air, and that means two things. First, it's time to break out the sweaters and scarves for fall. Second, it's soup season!
These warm and cozy all-in-one meals bring pure comfort to the table and the kitchen. Want a hearty and healthy dish to cover tonight's dinner plus a couple weekday lunches? Simply double up on your ingredients and, voilà, soup's on for days, with the same amount of prep time.
We've gathered a few of our favorite recipes to bring you vegan, vegetarian, and chicken soup for the soul. Our first sensational soup is courtesy of Ojai's own chef/author Robin Goldstein.
Ingredients
2 carrots washed, peeled, and sliced

3 yellow onions, sliced

4 cloves garlic, peeled

4 olive oil

2 sea salt

2 ground coriander

1 ground fennel

1 ground cumin

1/2 ground black pepper

1 1/2 quarts vegetable broth

2 coconut oil

1 (13.6-ounce) can coconut milk

Savory spicy granola, to garnish
Directions
Preheat the oven to 400°F. Line two baking pans with parchment paper.

Place the sliced carrots, onions, and garlic on the pans. Drizzle with olive oil, then sprinkle with salt, coriander, fennel, cumin, and pepper. Toss to evenly coat. Roast for 45 minutes, flipping the vegetables twice during roasting, until the carrots and onions are caramelized and browned on the edges.

In two batches, transfer the roasted vegetables to a blender or food processor with 1 tablespoon coconut oil and 2 cups broth per batch to puree, blend until pureed to your desired consistency. Add a bit more broth if you prefer a very smooth soup.

Pour into a medium pot and add in additional broth and coconut milk.

Bring to a simmer, taste, and season with additional salt and pepper as needed. Serve with savory spicy granola on top.

Chef's Note: The soup is vegan, gluten free, full of healthy fats, easy, and delicious—a great way to up the veggies in your weekly meals. I like my soup quite rustic, so I leave it thick, and hearty and not completely smooth.